Name: SSgt Troy Green
Branch of Service: U.S. Army
Age: 47
Deployment: 1351 Jalalabad, Afghanistan
Wish: BMX Bike and uniform
Wish Granted: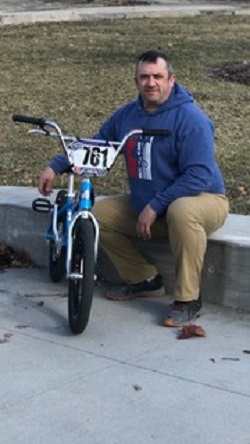 SSgt Troy Green loves his new BMX bike and is already participating in races!


Description of Injury:
Ssgt Troy Green was assigned to the Missouri National Guard Agricultural Business Development Team as the Primary Security Officer in April 2012 when a 300-pound vehicle-borne IED exploded 50 feet from his barracks, leaving a 15 foot wide by 8 foot deep crater, and destroyng part of the defensive wall. Ssgt Green was knocked unconscious and tumbled down the wooden staircase. He regained consciousness in time to hear another explosion in his building, just 25 feet from his room. Multiple insurgents swarmed the building with rifles and grenades. Ssgt Green's injuries from that day include three fractured vertebrae, severe concussion, TBI, damage to left hip, neck injury, and hearing loss. He continues to suffer from PTSD, social anxiety, and depression.
Wish:
After returning to civilian life, Ssgt Green needed an outlet to help relieve depression and stress, and reignite his interest in life. He found it in November 2017 at a BMX racing track Veterans Day event for veterans. This was a good fit because Ssgt Green had been a BMX racer in the 1980s and 1990s. The track manager loaned him a bike and helmet at no cost, so that he could paritcipate in events. The experience has been very therapeutic and he has been racing at local and state level races. It is his wish to have a SE PK Ripper 20" bike of his own, to be able to race in other state and national events with his own bike instead of a borrowed one. His wish also includes a uniform for the actual races; pants and long sleeves are mandatory attire to provide skid protection in the event of a fall.