Name: PFC Andrew DeQuasie
Branch of Service: USMC
Age: 22
Deployment:
Wish: Help with transportation to medical appointments
GRANTED
Sponsored by Uber
Wish Granted: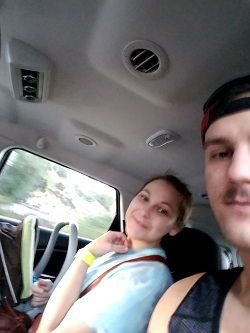 Here is PFC DeQuasie enjoying an Uber ride!


Description of Injury:
PFC Andrew DeQuasie is being treated at Balboa Naval Hospital in San Diego for metastatic cancer. He has undergone five months of chemotherapy and three surgeries. He is continuing treatment to monitor the cancer and may require additional interventions.
Wish:
PFC DeQuasie relocated to San Diego from his home in West Virgina to obtain his medical treatments. Unfortunately, he had to leave his car in West Virginia. He consequently has no vehicle to get him to his medical appointments, and must use Uber and taxis instead. Assistance with his transportation would greatly improve the quality of life for him and his family.