Name: 1SG Steven Holden
Branch of Service: U.S. Army
Age: 42
Deployment: Iraq
Wish: A Guided Fishing Trip
Wish Granted: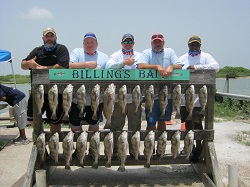 1SG Holden and his disabled veteran friends enjoyed an unforgettable fishing trip sponsored by A Million Thanks!


Description of Injury:
1SG Holden was on patrol in western Baghdad in 2007 during one of his five combat deployments when a 107mm rocket was fired by the enemy. It landed within 10-15 yards from his position and the explosion rendered him unconscious. Shortly thereafter, he was diagnosed with TBI (Traumatic Brain Injury) and was also recovering from many of the physical injuries as a result of the shrapnel that struck his body. In 2009, after completing many TBI treatment programs, he was deemed fit for duty once again. He continued his Army career as a medic until his retirement. After he got out of the military, the frequent migraine headaches started and his ongoing battle began. 1SG Holden also started to lose his memory and fine motor skills. His doctors got him into various TBI treatment programs and with daily memory exercises, speech pathology treatment and mind building exercises, his memory started to return. He still struggles daily with the fallout of multiple TBI's.
Wish:
While 1SG Holden was in the military, he spent much of his free time while at home in the outdoors. He enjoyed various sportsmen activities including hunting and fishing. He loves being out in nature! After his injuries and during his recovery process, he once again experienced being in nature and his doctors and therapists encouraged him to spend as much time enjoying this pastime as possible. His wish is to take part in a guided outdoor fishing trip!