Name: SSgt Mark Daniels
Branch of Service: U.S. Marine Corps
Age: 33
Deployment: Afghanistan
Wish: Vow Renewal Ceremony With His Wife
Wish Granted: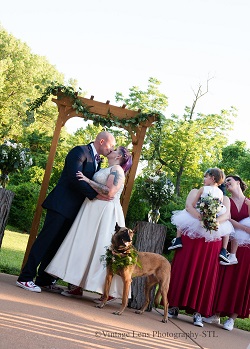 A lovely ceremony with family and friends. "Best friend" as ring bearer!


Description of Injury:
Mark was deployed to Afghanistan and on 8 June 2013 he and five other Marines, along with his Military Working Dog Aura, were in a vehicle when it was hit by a 200 lb. IED. No Marines were killed in the blast but four of them, including Mark, were medevaced home. Mark sustained a TBI with bleeding on his brain, along with other neck and back injuries. When he came home, he needed a lot of assistance and it took it's toll on his family. Throughout his treatment, Mark continued to show his passion for being a Marine. In 2014 Mark decided to continue his career with the Marine Corps and pushed hard to re-enlist. His working dog, Aura, was retired and came to live with his family in California.
Wish:
Over seven years ago Mark and his Wife Jesca said "I Do" at a small Justice of the Peace in Hawaii. At that time Mark and Jesca did not have a true ceremony or reception. Family and friends were unable to make it to Hawaii due to the distance and the only Mark and Jesca were present when they exchanged their vows. SSgt Daniels wishes to have a vow renewal ceremony with his wife, back at home in Missouri where their family and friends could celebrate with them! They have a small venue picked out and are looking forward to having a private ceremony in a beautiful barn with loved ones surrounding them!