Name: E-5 Sterling Colby Dunn
Branch of Service: Army
Age: 28
Deployment: Korengal Valley, Afghanistan
Wish: Family Vacation
Wish Granted: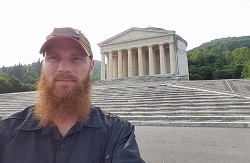 E-5 Dunn and his family enjoyed a memorable vacation in Italy!


Description of Injury:
I entered service on January 18, 2006, and was assigned to the 173rd Airborne Brigade in Vicenza, Italy. I served in the Korengal Valley in Afghanistan in the same platoon that was the subject of the documentary movie Restrepo. On October 31, 2007, while I was on detail burning waste, something ignited the can of fuel and it exploded. I had to jump off a 10-foot ledge to reach my comrades below who extinguished the flames, and I landed on my head. As a result of this injury, I suffered first-degree burns on my upper body and second and third-degree burns on my lower body. I have tendonitis in both knees, deteriorated discs in my lower back, shrapnel in my right hand, loss of superior vision n my left eye, traumatic brain injury, and chronic PTSD and depression. While I am still receiving treatments, these injuries have limited much of my ability to do housework, have a job, and care for my wife and two-year-old son.
Wish:
While I was stationed in Italy, I fell in love with the country and met my wife. Because I am still receiving treatments, my family and I are unable to travel for long periods of time. My wish is to take my family on a vacation to Italy, so my wife can visit her loved ones. I know she misses them very much, and we both miss Italy as well. We both just need a break from this routine of doctor appointments, counseling appointments, army review, and immigration appointments. Having this wish granted would help us a lot right now. My wife and I want to thank you for giving us and other wounded soldiers this chance. It's people like you who make us feel appreciated for our service. God bless you!